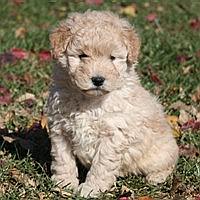 Sandy Ridge Miniature Goldendoodle
Miniature goldendoodles have found their place in the lives of many families. Because of a mini goldendoodle's disposition, size, and adaptability, a miniature goldendoodle adjusts well to just about any family lifestyle, including families with children. Sandy Ridge Miniature Goldendoodle is a leader in the breeding of healthy, happy, and intelligent mini goldendoodles.

Experience
Sandy Ridge Miniature Goldendoodle has been raising miniature goldendoodles in Southeast Iowa since 2004. Our experience with raising miniature goldendoodle puppies has given us much insight on genetics involved and the overall characterizations of this breed. Our family lives in a relaxed rural setting where our adults and puppies are given much attention and care. In settling on the miniature goldendoodle as the breed for Sandy Ridge, we put much consideration into the qualities we were looking for in our puppies. Below are outlined some of the leading criteria required in our search for the perfect breed – miniature goldendoodle. Our priorities for our mini goldendoodle puppies include: health, temperament, coat quality, size, and appearance.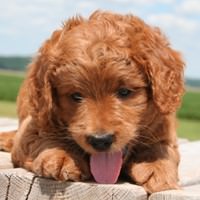 Health
Our mini goldendoodle puppies are raised from our experience with genetics involved to be the healthiest we can possibly produce. Through our testing and experience, we do everything we feel possible to eliminate health problems for our mini goldendoodle puppies. Our utmost desire is to produce healthy mini goldendoodle puppies that are able to live long and happy lives. In the unfortunate situation a health problem does arise, we offer a two year genetic guarantee against debilitating genetic defects in our miniature goldendoodles. Our mini goldendoodle puppies are checked by our vet prior to leaving us and given a clean bill of health certificate.
Temperament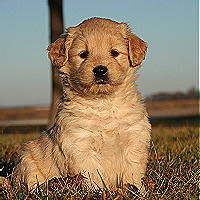 In our search for the perfect breed, a mild yet playful disposition was our goal. We could not be happier with the success in the miniature goldendoodle temperament. Playfulness and interaction is the motivation for the activity of a mini goldendoodle. Fetch, swimming, playing in snow, and walks/jogs are a few of the loves of a mini goldendoodle. While playful in action, a mini goldendoodle is as equally interactive in the mild manner of quiet and caressing attention. Showing the temperament of contentment, a miniature goldendoodle will often be found lounging by their human friends or patiently waiting for attention. Children typically find an inseparable friend and adults find companionship in a miniature goldendoodle.
Coat Quality
The quest for the perfect breed cannot be completed without the characteristics of a low shedding coat. Miniature goldendoodles gather the quality well known from the poodle breed of hair instead of fur. While we cannot guarantee a mini goldendoodle will not shed, our mini goldendoodle puppies show low to non-shedding characteristics. We have experience raising miniature and standard labradoodles, but never found the consistency evident in the mini goldendoodle coat. Due to this experience, we no longer raise labradoodles and recommend interested families to consider our experience in your decision.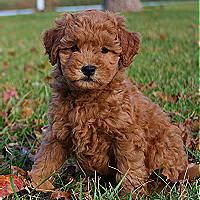 Size
Sandy Ridge also has experience raising standard size goldendoodles, but we were looking for a size of goldendoodle that fits into the family setting. A mini goldendoodle is well adapted to any size of living space, whether an intercity apartment, suburban home, or sprawling farm. Our first generation mini goldendoodles (F1 miniature goldendoodles) are typically 30-50 lbs as adults, which is a mid size dog. Our first generation backcross mini goldendoodles (F1b miniature goldendoodles) are typically 15-35 lbs as adults, which is a smaller medium breed dog. Our multigen miniature goldendoodles are our smallest size that are typically 10-25 lbs as adults.
Appearance
Our experience with genetics of miniature poodles and golden retrievers has shown a vast difference in the appearance of dogs from both breeds and the mini goldendoodle result. We do not prefer a miniature goldendoodle that favors the look of the tradition poodle and most goldendoodles (long nose, long legs, and slender bodies). While not easy, we have selected adults for our breeding that give us mini goldendoodles with solid bodies, shorter noses, and teddy bear faces. Many families have come to appreciate our teddy bear miniature goldendoodles that are unique to Sandy Ridge.
Purchasing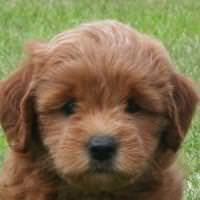 Please email for current pricing of our miniature goldendoodles. All puppies picked up will be charged Iowa sales tax. We are no longer offering shipping, so puppies will need to be picked up here in Burlington, Iowa. Our closest airport is Moline, IL (MLI) which is about 1.5 hours from us. A $500 non-refundable deposit is required to hold a spot on a litter and the balance due when puppies are six weeks old.
Contact Us
Please feel free to contact us with any questions you may have. Email as a first contact is typically the best contact (sandyridge@gmail.com), or you may also contact us by phone at 319-759-6129. Thanks, and enjoy your experience with Sandy Ridge Miniature Goldendoodle.